Spring 2023
Welcome to Spring!
As we welcome the change of the season with open arms, we also step into the Home Buying Season!
Sierra Choice Realty is here to help you, every step of the way.

Loving the outdoors in Northern Nevada
"A popular place to snowshoe in the Winter/Spring, and hike in the Summer. Enjoy this 2.4-mile trail that will take you about an hour to complete. The area is known for its population of Chickadees (Alltrails)." View more Trails in the Carson Valley/Tahoe/Carson/Dayton areas.
Do you have an emergency fund?
An emergency fund can help you in so many different circumstances. Having some extra funds to back you up in case of a home emergency can be such a lifesaver. Using your credit card may sound like a great idea, but you will probably be paying more than the problem is worth.
It's much better to use cash and to be able to take care of the situation rather than charging it.
A good target amount is 1% to 3% of your home's value. (Realtor.com) Read more
Find more tips for buying and selling your home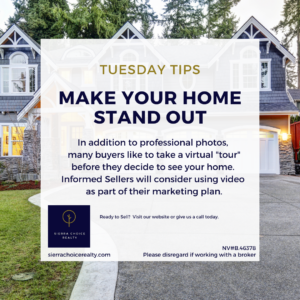 How to make your home stand out to buyers
When gearing up toward Home Buying Season, one of the most beneficial steps is giving your home the attention that it deserves!
Have you thought about doing a virtual tour?
Virtual Tours come in handy because a buyer can take a look at your home from wherever they are,
They can also get a good look at the layout and condition of the home without even having to step foot inside.
Digital marketing is also a great tool for driving sales and can help your home reach more buyers. (Realtor.com) Read more
Have real estate questions? Need to make a move but unsure how to navigate the current market? Give us a call today at (775) 781-5184 and put our experience to work for you. Now more than ever you need a proven professional on your side whether buying or selling.
Message from the Broker
It is already tax season and soon summer will be upon us. It feels like we have been here before. Oh wait, we have.
If you haven't already done so, please reach out and schedule a market review for you and your family.
Whether buying, selling, or sitting tight it is important to know how the current real estate market affects you.
Spring is a great time to list your home for sale and now may be the ideal time for you to consider doing just that.
The market is still leaning favorably toward buyers, but many sellers are also able to benefit by today's market. Don't delay.
Have a real estate question? Give your agent a call today and let's take advantage in today's market.
Gregory Cremeans. Broker/Owner B.46378