Summer 2022
Welcome to Summer!
Our first few months here at Sierra Choice Realty have been nothing short of amazing. We have been very busy getting everything in place, working with wonderful clients, and bringing you lots of great properties to see. As always, if you need our help with buying or selling, contact us today!

Loving the outdoors in Northern Nevada
"Try this 3.1-mile out-and-back trail near Carson City, Nevada. Generally considered a moderately challenging route, it takes an average of 1 h 55 min to complete. This trail is great for hiking, and it's unlikely you'll encounter many other people while exploring. (Alltrails)." View more Trails in the Carson Valley/Tahoe/Carson/Dayton areas.
Looking to buy a home? Get Pre-Approved for a Home Loan!
"No, it's not leaping into buyer mode by picking out a real estate agent who has pretty homes, setting up a home inspection, and then moving in your sectional couch. Real estate agents agree that long before you peruse listings or check out open houses, you should talk to a lender about your credit score, so that you can secure a mortgage… This info, in turn, will help you decide how much of a down payment you, the future buyer, can make, and which homes are realistically in your price range… If you're still in the window-shopping phase, with no immediate plans to buy, you might want to opt for mortgage pre-qualification, which gives you a ballpark sense of your purchasing power without promises of a loan (Realtor.com)." Read more
Find more tips for buying and selling your home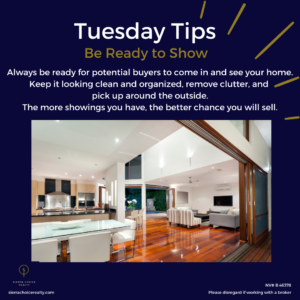 Selling your home? Be Ready to Show!
"There's no time like the present to start decluttering and transforming your lived-in home into a show-worthy property to make a positive impression on potential buyers. That means attending to the most important details that will create mass buyer appeal and increase your home's value…'Homes that are prepared for market and look good on the Internet, usually sell the quickest,' Gallagher says. 'Time is money and less time on the market means less stress and frustration for the seller.' (NAR.realtor)." Read more
Have real estate questions? Need to make a move but unsure how to navigate the current market? Give us a call today at (775) 781-5184 and put our experience to work for you. Now more than ever you need a proven professional on your side whether buying or selling.
Message from the Broker
Summer will be quickly upon us. For me, summer means time with family and friends for backyard BBQs or a lazy day at the beach. It is also a great time for home improvements. Some home improvements have a bigger buck when it comes time to sell. If you have a question about your next home improvement, give me a call today at (775) 781-5184.
Gregory Cremeans. Broker/Owner B.46378