Fall 2022
How does Interest Rates effect the Seller and what options do Buyers have when it comes to closing cost? Know your options. Call or text us today.

Loving the outdoors in Northern Nevada
"Discover this 2.5-mile loop trail near Glenbrook, Nevada. Generally considered an easy route, it takes an average of 50 min to complete. This is a very popular area for birding, cross-country skiing, and hiking, so you'll likely encounter other people while exploring. The trail is open year-round and is beautiful to visit anytime. Dogs are welcome, but must be on a leash (Alltrails)." View more Trails in the Carson Valley/Tahoe/Carson/Dayton areas.
Looking to buy a home? Buyers have many loan options!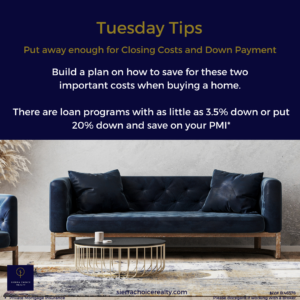 "One of the biggest misconceptions among housing consumers is what the typical down payment is and what amount is needed to enter homeownership. Having this knowledge is critical to know what to save and to estimate how long that may take…Buyers have many loan options. The majority of all buyers use conventional financing to purchase a home. Among first-time buyers, 23% used an FHA loan. FHA loans allow borrowers to put down just a 3.5% down payment. A mortgage broker or housing counselor can discuss loan options available (NAR)." Read more
Find more tips for buying and selling your home
Selling your home? Certain upgrades can pay off!
"Walk from room to room—and around the exterior of your house—looking for things that might detract from your home's appearance and drag down
its value. Some common problems include cracks in walls, water stains on ceilings, and doors and windows that don't open or shut easily…Once you have a handle on your home's condition, it's time to decide what to fix or change before putting your house on the market. While you're probably not eager to spend money on renovating a property you're about to sell, certain upgrades can dramatically improve the impression your home makes on buyers, leading to more and higher offers. Even relatively inexpensive alterations can pay off, like a new coat of paint or refinishing the floors. A real estate agent can help you pick which upgrades will bring the best return on investment (Realtor.com)." Read more
Have real estate questions? Need to make a move but unsure how to navigate the current market? Give me a call today at (775) 781-5184 and let's put my 22 years' experience to work for you. Now more than ever you need a proven professional on your side whether buying or selling.
Message from the Broker
Tis the season to Reflect. As we find ourselves in the final stretch of 2022, I find myself seizing the opportunity to reflect. Now is the time to remind oneself of all the things you have accomplished throughout the year. Perhaps you had a goal to exercise more, travel often, or enjoy more coffee dates with friends. Whatever it was be proud of what you were able accomplish. The new year will be upon us before we know so do not miss out on this special time to appreciate you and your accomplishments.
Gregory Cremeans. Broker/Owner B.46378