Get Outside Nevada!
We are going to take on some of the hikes we have posted about in our Trail Talk Thursday series.
Here are the first three hikes we will be doing, and we invite you to join us along the way.
Damonte Ranch Wetland Loop
This hike is considered to be easy and will take about an hour to complete. It is a paved path that surrounds a wetland area and is about a three-mile loop.
This is a popular trail for running, walking, and bird watching. It is open year-round and is beautiful to visit, anytime.
Please bring your pups with you, just make sure they are on a leash. You may also encounter wild horses, please do not feed them.
https://www.alltrails.com/trail/us/nevada/damonte-ranch-wetland-loop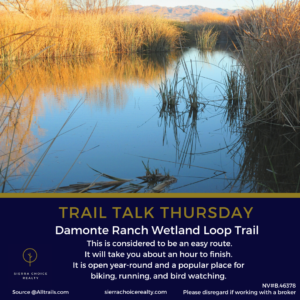 Nevada State Park – Spooner Lake Trail
Spooner Lake is beautiful in the Fall with it's golden aspens, tall pines, and scenic lake views. There are plenty of spots to stop and soak it all in.
This lakeside hike will take you about an hour to finish, and is about 2.2 miles in length.
A wonderful trail easy trail for everyone, including your leashed doggies!
*Note : There is a $10.00 fee per vehicle
https://www.alltrails.com/trail/us/nevada/spooner-lake-trail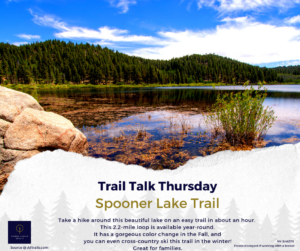 Mexican Ditch Trail
How about a nice hike down by the Carson River? The Mexican Ditch Loop Trail is a varied trail that moves along the river and will take you about an hour to complete.
This trail is the perfect place, to walk, hike, and bird watch. This peaceful trail winds through the sage and cottonwood trees to the top of Prison Hill. This trail is 3.5 miles around.
Bring your pups on a leash to enjoy the beautiful views with you.
https://www.alltrails.com/trail/us/nevada/pasture-river-mexican-ditch-loop-trail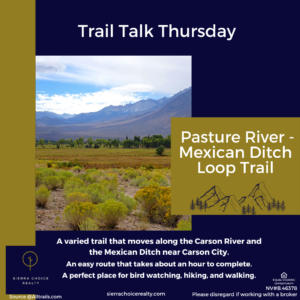 Join us to explore these beautiful places around Northern Nevada!
Check out the schedule below.
Please R.S.V.P. at hello@sierrachoicerealty.com for more information.